歯科医師 藤田 裕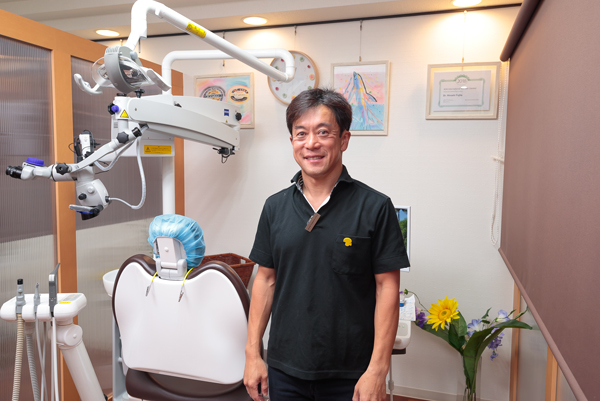 経歴
平成4年日本大学歯学部卒業
平成9年日本大学大学院卒業(口腔外科専攻 )
唾液免疫遺伝子の研究にて歯学博士受領
平成10年4月まで春日部市立病院口腔外科勤務
平成10年5月1日藤田歯科医院開業現在にいたる
発表原稿要約
Analysis of Mouse Secretory Component Genomic DNA
30th May 1997Nihon univ.Dent.Journal

Hiroshi Fujita(D.D.S,Ph.D)

Nihon University School of Dentistry ,Major in Oral and Maxillofacial Surgery.

(Director :Prof.Itsuro Kudo)
abstract:
The polymeric immnoglobulin receptor tranports polymeric immnoglobulin A and M across the glandlar epitherial cells 1).During this process ,the receptor ,an integral membrane protein ,is cleaved by proteolytic enzyme with the result that a large portion known as the secretory component (SC) is released as external secretion with the immnoglobulins.2.3) In this study,mouse genomic library was sceened by EcoR I fragment of the mouse SC cDNA clone to determine the mouse SC genome. The following result were obtained: 1.Approximatery 1.0kb and 580bp introns spanned positions 1041bp and positions 1375bp and 1376bp of mouse SC cDNA ,respecttively. 2The genomic organization (exon-intron structures)and exon seqences were very close for human and mouse SC.
References:
1) Mostov,K,E&Simister,N,E:Trancytosis;Cell,43,p389-390,1985 2 )Kuhn,L.C&Kraehenbuhl,J-P:The membrane receptor for polymeric immno globulin is structuaraly rerated to secretory component; Biochemistry,23,p12490-12495,1981 3)Mestecky,j.,Lue,C&Russel,M.W.:Selective transport of IgA:Cellular and molecular aspects;Gastroenterol.Clinics of North America.,20,,p441-450
The experience and prognosis of generative procedure : using EMD
16th March 2008 reserchreport abstract

Hiroshi Fujita (D.D.S,Ph.D)

Director of Fujita dental clinic, Business faculty of Nihon University.
abstract:
There are many methods of periodontal surgical therapy and past research revealed ordinary surgical procedure didn't get attachment adhesion of the gum1). Some method like Guided Tissue Regeneration (GTR) revealed that Gum were healed by controlled tissue regeneration but also these method didn't get attachment of the gum2)3) . Regeneration method using Enamel matrix protein confirm true periodontal regeneration4)5) . This report is showing simple process with appropriate regenerative operation and these prognosis Please evaluate yourself and compare with your cases!!
References:
1)Histometricevaluation of periodontal surgery connective tissue attachment levels of four generative procedure Carton.J et al Journal of clinical periodontology 7:224-231 2)EMD in the treatement of intrabony periodontal defectL..heiji et al ,Journal of clinical periodontology 1997 24:705-714 3)The periodontal tissues in healed degree III furcation defect(an experimental study in dogs)M.araujo et alJournal of clinical periodontology 1996 23:532-541 4)Enamel matrix ,cementum development and regeneration Lars Hammarstrom et al ,Journal of clinical periodontology 1997 24:658-668 5) periodontal regeneration in a buccal dehiscence model in monkeys afterapplication of enamel matrix proteins ,Lars Hammarstrom et al ,Journal of clinical periodontology 1997 24:669-677 6)Comparison of ready to use EMD gel and EMD in patients with chronic adult periodontitis,Bratthall et al ,Journal of clinical periodontology 2001 28:923-929 7)Reaction of oral tissue to suture material Lilly GE Oral surgery Oral medicine oral pathology 26 128-133 8)Effect of professional tooth cleaning on healing after periodontalsurgery Jan Lindhe et al, Lars Hammarstrom et al ,Journal of clinical periodontology 1975 2:80-86 9)Pain experienced by patients under going different periodontal therapies Cenk Faith Canaski,DDS,PhD; Varol Canakci,DDS, PhD,The journal of Tthe American dental association December 2007, p1563-1573
歯科医師 井口 利絵子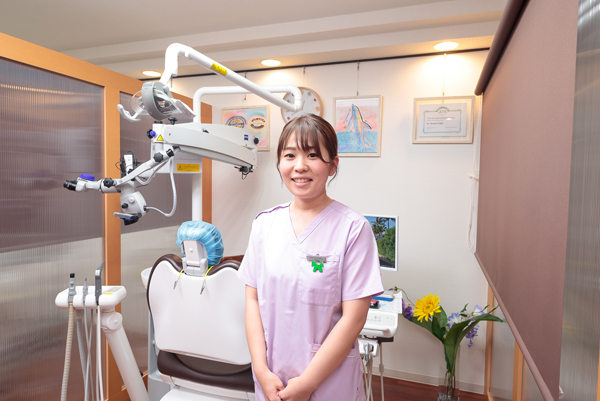 こんにちは!この度、平成30年5月より藤田歯科医院で働くことになりました 歯科医師の井口 利絵子です。 患者さんに 笑顔になってもらえるように頑張っていきたいと思っていますので、よろしくお願 い致します!
経歴
平成21年 福岡歯科大学卒業、歯科医師免許取得
平成21年〜平成23年産業医科大学歯科口腔外科研修医
平成23年〜福岡県内歯科医院勤務
平成26年〜東京都内歯科医院勤務
平成30年5月〜当医院勤務
学会、研修 日本大学教授保存修復学 宮崎先生前歯修復ハンズオンセミナー修了
歯科衛生士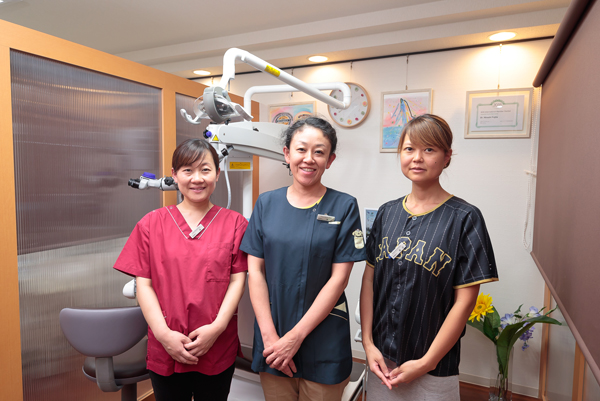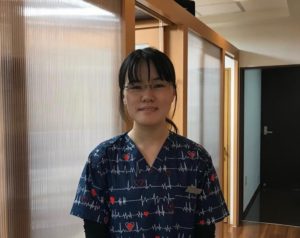 日本歯周病学会認定 歯科衛生士(資格)歯科衛生士 渡辺真弓 日本歯周病学会認定 歯科衛生士(資格)歯科衛生士 湊 まゆみ 日本歯周病学会認定 歯科衛生士(資格)歯科衛生士 堀之内 朗子 歯科衛生士 平田和穂
スタッフ- 笑顔の絶えない明るい歯科医院です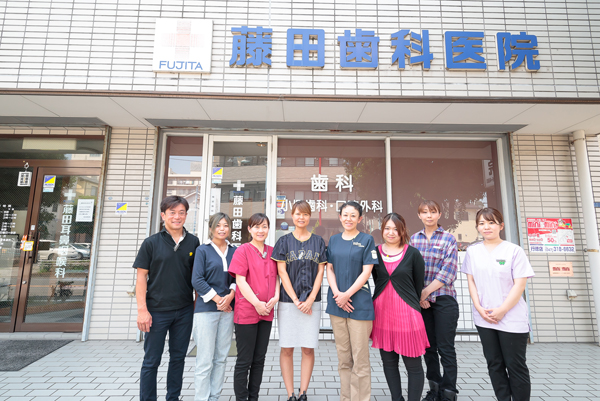 歯科助手 細川 明日香 歯科助手 白鳥 亜依 歯科助手 外山千織